Rupley Student Honored for Assistive Technology Progress
One Rupley Elementary student has enjoyed a month of celebrations for his impressive work.
Julian, a fifth grade student, was recently honored at the 2019 Outstanding Student Technology Awards by Infinitec. The awards are presented each year to celebrate the progress made by students that apply assistive technology in their education.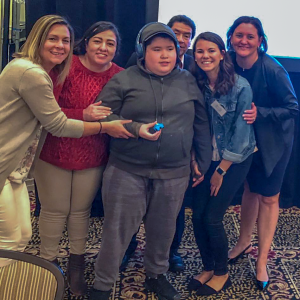 Julian has been in the special education program at CCSD59 since Pre-Kindergarten age. As a nonverbal student, he communicates entirely through technology, primarily a tablet. Over the years, Julian has developed the ability to interact with those around him, ask questions, identify items, and talk about his passions.
"It has been inspiring to watch his personality come through," said Linda Buniak, a Special Education Coordinator at CCSD59. "We wouldn't have known about his sense of humor otherwise. Just to learn about his likes and dislikes, it's amazing how he can navigate through it."
Julian completes regular learning and communication tasks in order to strengthen his interactive skills. He now uses TouchChat, a communications app, to learn specific words.
He was celebrated at the CCSD59 Board of Education meeting on April 15, where board members presented Rupley Principal Diana O'Donnell with a certificate for Julian.
"He has been so successful in creating his whole person," said Diana O'Donnell. "He is a success story in terms of how he is able to function, communicate, and be included with peers on a daily basis."