'We Are Family': Rupley dedicates mornings to building understanding of fellow students
On the first Wednesday of every month, classrooms at Rupley Elementary feature an opportunity for students to meet peers from different backgrounds and educational needs. That is thanks to a practice that began this fall as a way to build relationships throughout the building.
Rupley began offering Social Emotional Learning (SEL) Unity Family lessons at the start of this year. Each month, students travel to new classrooms to meet fellow students they may have not been able to interact with before and experience new lessons designed by dedicated staff members.
"The entire Rupley community works together as a team to implement our 30 families with students from monolingual, dual language, and special education classrooms. They come together to learn about our diversity and appreciate each other," said Diana O'Donnell, Rupley Principal.
When the staff were looking for a new way for students to connect with one another, they understood that it would not come from a single person's idea. With the number of diverse backgrounds, different languages spoken, and educational needs among students, it would take plenty of collaboration to give students the chance to experience each of these.
The SEL Unity Family practice is an extension of how SEL lessons are implemented daily in community circles and routine instruction, in accordance with the school's ESSA (Every Student Succeeds Act) plan. This initiative takes those principles and applies them to the entire student population in a way that allows them to grow relationships across new platforms.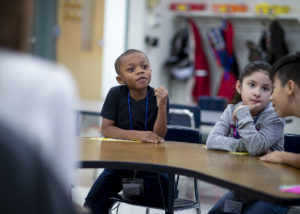 All lessons include learning and language outcomes tied to the multilingual program, but also feature instructional supports that apply to all learners. They are also centered around the five competencies that define SEL: relationship skills, self-awareness, social awareness, self-management, and responsible decision making.
"The interactions between students from all the different programs represented has been phenomenal," said Jennifer Stukes, an ELS teacher at Rupley. "It has allowed students to understand more about disability, types of communication, and language differences even at the Kindergarten level."
The hour-long sessions are routinely spent greeting new students and sharing ideas. Students familiarize themselves with vocabulary terms based on that morning's lesson (i.e. appreciating differences) and read books or watch videos around the subject. They also reflect on what makes them happy about their own lives and about their lives at school.
"I've seen students greet each other more often as they're going through their daily routines," said Nicole Avena, a fourth and fifth grade teacher. "During our monthly meeting, the students' conversations have been deeper than normal. They are listening with passion and purpose. These relationships are truly making a difference in and around our school."
The students themselves also recognize how these lessons have strengthened their interactions. Even at the elementary age, they are finding a new appreciation for classmates and what a day at school means for every type of learner at Rupley.
"This family helped me get to know new friends and helped us get to know each other as people," said Hannah, a fifth grade student. "Those new friends have made our group bigger."